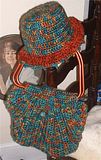 so this is what I have been working in the past couple days.. Along with some other things but of course they arent finished and I dont like posting WIP .. So you get this one pic for the day .. The bag will be lined with some copper silk when I get the inclination to sew..
the hat pattern is from the Crochet Pattern A Day calendar.. April 3rd.. I did the optional picot edging on the brim.. Used a random acrylic bulky yarn I had.. Not usually a big acrylic fan but this was shiny AND soft.. So I used it.. Along with a burnt orange chenille for the contrast.. The bag is of course the same yarn .. And from the 2004 Interweave Knits Crochet magazine.. The Color Splash Bag on page 83.. Of course.. I didnt use the suggested yarn.. The suggested handle or the suggested gauge ..Or the suggested closure.. But I think it turned out pretty well anyway .. Would have snapped the picture with me in it but wasnt feeling to photogenic tonight.. So you got the artistic still shot LOL..
I have two more complete hat and bag sets to show .. But one is waiting beads and handles.. And the other is waiting.. Well .. Beads and handles.. LOL.. Tomorrow if you are lucky !!
nothing too exciting over here at Casa De Jacobsen.. This new year has started quietly .. Lets hope it stays that way ..