well i came home with no new ink last night.. i walked in.. i had called earlier and they werent real busy .. well for some reason.. on a wednesday night .. within and hour they booked.. damn the luck.. its ok though.. i wanted a specific person.. and i have an appt in february to get who i want to do what i want.. i am excited..
i am finally getting my swans.. here is a pic for those of you not in the know.. its clickable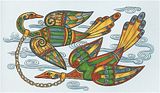 and i am getting a small piece put on my neck..that is going to be a surprise.. but its nice..
i cant wait..
so get this.. my mom calls last night and asks me where i would like to go for dinner for my birthday it went down like this ...
Mom: Hey... I was just calling to see if we could make arrangements for your birthday dinner.. maybe sunday?
Me: Sounds good to me I am wide open
Mom: So where would you like to go.. make it some place nice.. cause i dont get to go out that often
Me: How about Tandoor.. its my favourite right now
Mom: What is Tandoor?
Me: Its Indian and its really good..
Mom: oh GOD no... we are not eating there
Me: OH, well i thought i got to pick cause it was my birthday
Mom: You do but Ronnie wouldnt like that (ronnie is my step dad)
Me: I wasnt aware it was Ronnie's birthday.. i thought it was mine
Mom: Dont be a smart ass..
Me: i wasnt trying to .. you asked me where i wanted to go.. and i told you.. and you said no..
Mom: Just think about it and call me tomorrow
Me: Fine..
why does this make me so crazy ?