and NO not that kind of booty.. although that would have been really nice.. i can think of a certain person i wouldnt have minded collecting that from though...
anyway ... heres the loot
i got these on saturday from my nice nice nice friend in NC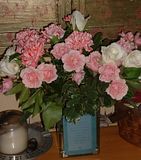 Kari..
i love you and
David
for the gift certificate from
Elann....
i also recieved from my very funny niece a bottle of
"gas be gone"
for my dogs. ... how thoughtful huh ?
here we are waiting for lunch sunday ...
and a couple more of just me.. while we waited.. of course my mom hated my hat..she couldnt see my eyes... and the boots i had on were too tall ..whatev.. i looked cute..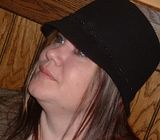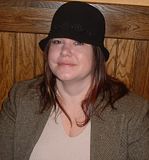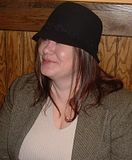 i also recieved $100 bucks from mom even after the criticism..lol.. my sister gave me a movie.. but i already had it so i went to target and exchanged it for some Kid Rock.. Cocky baby!!...then after lunch on sunday .. my sisters fiancee's children were invited to a bowling party .. and she asked me if i wanted to come and practice.. so i did.. and that was fun too ..
yesterday i spent the day hanging with a friend.. we bowled.. my shoulder hurt today .. went to the harley shop to pick up gifts for the twins.. they will be 8 on saturday and had asked for harley gear.. and while we were there my friend kindly picked up a small coffee thermos for my saddle bag.. and a large harley mug for every morning use.. pics of that later my camera batteries died ... i bought the boys cute little matching shirts.. and of course one for me ...and yes picture later.. however its olive green thermal with tan tribal on it .. and of course cute as hell like me LOL.. man i am full of it today .. we went to dinner.. i had a couple chocolate martinis .. and then after i had a venti caramel macchiato with two extra shots.. woohooo
so ... tell me dear readers.. what should i spend my 100 bucks on ? i need suggestions !!!