These are some long over due thanks yous.. I actually have a couple more but this was all I was up to taking the pics.. storing them in photobucket and posting..
so.. first off Thanks Vicki .. for the Joann's rainbow boucle.. in the pic tha tis what is left.. I have made myself a nice poncho kind of thing with it.. and I have to show that off soon too .. and also thanks for the ultra cool Martini Lamp !! how cute is that ? Its on top of my desk hutch.. I dont think I have turned it off since I got it.. and before you all freak out.. its like a night light.. it uses a little 4 watt bulb..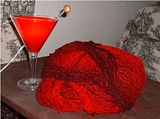 The next one goes to Ro.. I had her on our Secret Sistah secret pal swap.. we had a good time !.. and in return .. she sent me a little thank you package.. some Burt's Bees lotions.. a skein of Divine .. and a martini stamp.. and a cute thoughtful card.. THANKS!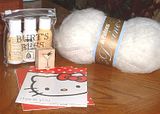 Last thank you .. but certainly not least ..

Lori

sent me my Shrone welcome pack .. I got my card and two of the cutest lip glosses ever.. do you see that .. they are MARTINI!! I love lip blam and lip gloss!!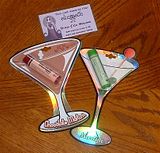 lastly .. i leave you with cutness like you have never seen ..
LITTLE CHARLIE WHISKERS!!!