thing nice to say come sit next to me !.. yeah i watched Steel Magnolias last night. It gets me every time.. the whole gambut of emotions.. I laugh .. I cry.. and I am fixated with Tom Skeritt.. why do I find him so damned sexy! I think the part of that movie that cracks me up the most is that red velvet armadillo grooms cake.. and of course Shelby's decision to use blush and bashful (pink and pink) for her wedding colours... i cant imagine.. at anyrate.. speaking of pink..

I received some fabulous things in the mail today .. I cant show you here because they are for the auction we are having at
Crochetville
to raise funds for operational costs.. but I can tell you the one thing I received I was most excited about.. and let me tell you the things in the mail were exciting but .. THIS was the best!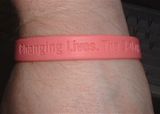 it will be my constant companion until it falls off.. but definately until Oct!.. I dont usually wear pink but this shade suits me just fine.. its a reminder of why i walk in the rain.... why i need to drum up as many contributions as i can.. a reminder.. that this has touched my life in so many ways already .. that i must ..

oh I do need a favour.. in the knit pattern a day calendar there are pink ribbon socks.. I would LOVE three pair.. and havent mastered socks yet.. so any of you out there .. that knit.. and would like to help me out.. I will either pay you or work out a trade whichever you would like . i just reallyNEED those socks! i want a pair for every night at base camp .. when i get done I want to put them on with my slides.. (that are pink and black) .. but the real reason and the best reason is.. i have two sisters.. i would love to .. after the walk give each of them a pair and keep one for me .. just reminders.. so .. help a sistah out will you ?

just email me .. you can do that from my profile .. i would really appreciate it !