i want to thank every one who has jumped in already and helped me out.. dont worry there is still plenty of time and before the event I will put up monthly reminders about it..
i have a detailed outline of their 24 week training program .. i am of course startign early because i need to be in the best shape possible for this.. and you know if i lose a little weight along the way .. well then.. BONUS for me..
i guess i want to tell you all why i feel compelled to do this .. and its not like i even felt like i had a choice.. I lost an aunt when i was 12 from this..my fathers sister.. she was only 38.. and lets remember i just turned 36 .. so i just cant imagine losing my life at this point.. my mother has had 3 lumpectomies so far.. her sister has lost both breasts.. my grandmother had to have one removed as well .. she is not longer with us.. she died from being old.. but still had to go thru this .. I have another aunt on my fathers side that has had one breast removed as well .. so you can figure and imagine what the odds are for me and my sisters .. here we are this past summer .. hanging out at starbucks.. me trying to teach them to knit..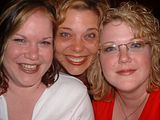 you know i have been thru the cancer thing (not breast).. i dont wish it on any one... so this really wasnt a choice for me
i am walking because i simply MUST..