I have needed to post several pictures and several posts really and i have just not been into it the past few days.. finally tonight.. i am really not into it but if i put it off much longer i think i will have people with torches at my front door .. i really wouldnt like that .. i will say .. i WAS traumatized over that clown blanket.. so I had to have a little recovery time ok ??

plus i did have a valid reason yesterday .. my camera batteries died... and i had to recharge them and that takes time !!

ok ok ok .. enough already so here is the deal ..

i received this wonderfully generous package in the mail right before my birthday .. it was wonderful.. just what i needed the day it arrived.. i am not sure if the sender wants to be pointed out .. but you know what i am pointing LOL .. it was a wonderful gift.. THANK YOU
CORDELIA
..

i recieved the little box of crocheted hats and scarves.. some shrimp chips .. pea crisps.. (notice i cropped the pic so you couldnt see where i tore them open like an animal before i could snap a pic) .. some good smelling lotion.. and a cinnabon lip balm ..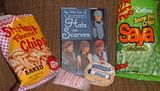 then from that really nice
Deneen
girl.. i was gifted with a mahvelous mini tote in shades of olive.. woohoo.. a pack of cute knitting cards.. and the most precious silver necklace.. its perfect.. i dont like large complicated jewelry.. ok sometimes i do but mostly i dont.. but the point is .. i would have picked this for myself.. and didnt have to because she did already .. THANKS GIRL!!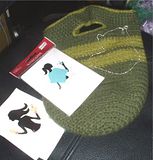 Kari's gift pack was proof that at least one person in the world listens to what I have to say LOL.. inside i found a martini set that was perfect for making one great martini at a time.. it had a small shaker.. some picks for my olives .. and a jar of olives and onions.. so cute! .. and i know you are gonna think its weird but i have been wanting this and didnt go get one.. seh sent me a glade candle thingy .. where you burn the candles and they melt into scented oil and then just go out when the oil is gone.. its really cool.. and smells soo good.. and believe it or not .. one is all i need to smell up the whole house.. also inside where some knitting needles and some neat-O knitting booklets from Bernat.. and al ittle pouch with cloves.. yummmm .. Thanks
Kari
and
David
!!


Then there is the business of these last three gifts.. I know where they came from but i am not telling LOL .. sorry .. but that is the way i want it to be .. of course they were very thoughtful and wonderful and generous! First is a maple swift from
Turnings and Shavings
.. in maple.. i have been drooling over this for a while now.. the second is a pair of 19's from
Grafton Fibers
.. circs.. with custom length cord.. they are very nice !! .. and last but definately not least.. 5 pounds of Sinless pastry coffee from
Churchill Coffee
.. this coffee smells so good.. i swear to alpaca.. you could just eat the beans.. and yes it has helpe with my craving for sweets cause each cup is like a piece of spice cake.. or maybe even a cinnabon! All i know.. it sure is good .. and i think I have used a pound already LOL