ok i have to back track.. cause i have gotten sidetracked..
saturday .. picture it.. rainy .. dreary.. drove into fayetteville to meet up with Fruggs.. (Angela..) and teach her to use her drop spindle.. i told her it was really easy.. she didnt believe me.. til of course we got the stuff out and started .. and she was like.. omg .. this IS easy.. SEEEEEEEEEE.. LOL
so i got to Barnes & Noble.. we had agreed to meet in the front where the coffee shop is.. and i will confess.. i had NO idea who was supposed to be meeting.. we had not talked .. we had not said this is what i would be wearing.. nothing.. i made an assumption she had seen a couple of my pictures and was SURE she would recognize me .. so i wasnt stressing too hard.. i got there .. got my coffee and got a table.. man that place was busy ..
i sat down and ate my giant oatmeal raisin cookie and sipped my caramel macchiato(oh yeah i splurged.. it was starbucks!).. and waited.. watching.. hoping to be able to pick her out.. really it wasnt that hard.. thank alpaca.. she was carrying her spinning stuff in a clear plastic bag.. it HAD to be her.. how many ppl carry around a drop spindle and roving ?? i waved she came over i was stuffing my face..
we had THE best time... see.. we are laughing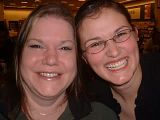 and that is because .. we were trying to take the pic.. and umm .. i had not turned the camera on.. LOL.. DOH!
(pssst deneen...look at my neck!!)
so we spun for like an hour.. and then went on a yarn spree.. AC Moore.. Jo Ann's... Tuesday Morning.. Hobby Lobby.. i was trying to be good really .. i spent less than 50 dollars and got a good whack of stuff .. some of it isnt for me though.. so no show and tell just yet!
anyway .. i was asking Angela how long she could be gone. she had left the baby with hubby.. and she was like oh .. however long i want.. wellllll....
we were in HL.. and the phone rang.. it was 6.15!!!!! had not even noticed the time.. where had it gone? seriously it was just 3.15 a minute ago.. LOL.. anyway .. i took her back to her car and we said bye and i have an invite to her knitting guild meeting .. HOW FUN!!
i had a great day .. thanks Angela!!