Top 5 Reasons Yesterday so Rocked!
well first and foremost..
i met some amazing women last night at a knitters guild meeting in Fayetteville.. I was invited by Angela and had some reservations to be honest cause the last "knitter" thing i did was disastrous.. a bunch of uppity house wives with nothing better to do than sit and talk about how much this was or that was or how much their husbands made in comparison to other people .. GAH.. enough already i left early and had an invite back i never took...
last night though.. completely great.. all the ladies there where either knitters who crochet or crocheters that knit.. and all so down to earth and funny .. it was a wonderful experience that makes me almost sad i am leaving in 4 months.. the ONE good thing I like about this place and i found it as i am basically leaving.. man..
the second reason yesterday rocked..
cake and coffee for dinner.. i don t think this needs explaination does it?
third reason.. yesterdays high was 79 degrees here and sunny .. it smelled soooo good outside..
fourth.. my hand dyed rayon chenille turned out so good i just might keep it
and the last reason yesterday rocked...
before i went to the group thing Angela met me at AC Moore.. (we did a mini yarn crawl.. AC Moore .. Hobby Lobby) with her cuter than cute baby .. and you know most ppl who know me will find that sentence odd cause i usually dont fall in love with kids but OH.MY.GOD.. she was a complete doll.. gorgeous baby.. gorgeous dispostion! .. anyway .. i bought a couple things there and on to Hobby Lobby
i wont keep you waiting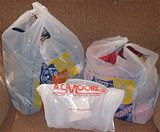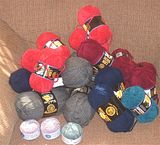 the top is all the stuff i got.. the bottom shows it all on my chair.. yes.. that's right .. i bought 10 skeins of lionbrand suede.. in some rather odd colours for me..fuschia.. hot pink.. and teal.. .. but the price was right.. and 4 skeins each navy worsted woolease and grey heather sport woolease...and the price.. drum roll please!
A DOLLAR A SKEIN..
and of course out in front some Opera thread on clearance as well for 2.99.. sooooo.. for 30 dollars .. i managed to bring home .. 21 skeins of yarn ..not to shabby .. watch the side bar later for that hand dye rayon its almost dry!