ok i think i have my pictures uploaded and ready and thought i would start with the first couple days of the trip
*please note.. all pictures are clickable*
i stayed up all night the night before to try to get acclimated to the time and suffer little jet lag.. so i took off from my house at 8 am to pick up Jessica ..it was overcast and drizzly.. but our spirits were high .. we crammed the bags in the car ..hit burger king and got to the airport..
nice and early .. found a nice parking spot for the days we would be gone ...headed in checked in and was at the gate in time for our 11.20 departure.. it went down hill from there.. our flight was two hours late.. great.. but ok .. because i had given us a 4 hour window between flights for this very reason .. every thing was gonna be ok ..
so since we were early .. we had a whole three hours to wait before out flight would take off.. Jessica stretched out for a nap.. and i broke out some knitting.. a little mitre square cotton blanket i am still working on really .. so..
our flight takes off and things are looking good.. they tell us the made up time in the air and we would be in NYC by 4.30.. this is nice because our flight for egypt was leaving at 6.30.. not nervous.. things were going to work out..
so we get toward JFK and were told we were in holding.. we werent landing for another hour.. ok.. time to start sweating..that would be landing at 5.30 and trying to get thru security .. and to our flight in just under an hour..
landing went fine.. luggage claim fine.. air train took us to our terminal in 45 seconds.. get to the check in counter no one there .. SCORE.. !!! quick check in .. yess.. we head toward the counter to be told its closed..
WTF?! oh HELL no.. !! i have a ticket for a flight that is not leaving for another 50 minutes .. i am getting checked in and we are gonna be on that plane.. i explain we were here just in the air.. not my fault our plane cut it this short because we were circling.. so they let us check in .. and dont you know there were ppl even later than us that were allowed to check in .. so we are on the plane and ready for our 9 and a half hour flight..
so we settle in .. Jessica pops her dramamine.. we have dinner and she knocks off.. as soon as we take off i set my clock to cairo time .. and relax.. gonna have a little nap.. NOT.. two screaming babies kept up our section of the plane for the next 6 hours.. i got a little nap right after breakfast.. but it was only about an hour and a half.. oh well.. Jessica slept .. and i am a trooper .. i can take it..
we got to cairo.. finally.. and we had a liason there to help us to get our visa .. money changed.. and thru immigration .. and also to get our bags and help us to our bus..
this was the scene at the airport..
it was crazy...
we got to our bus and started toward our hotel picking up Bill our tour coordinator along the way .. this is the person that made sure our reservations were right.. our tickets were taken care of .. our hotel was right.. meals were as they were supposed to be .. etc.. somehow along the way i didn t get a picture of him...
we got to the hotel
it was really nice.. and we were set free for the rest of the night.. Jessica and I took it upon ourselves to hit cairo... have some dinner.. shop and have a camel ride.. it was a nice night .. and we got in rather late.. 10.30 .. considering we had to get up at 2.30 am for a flight to luxor
those are the view right outside our hotel.. we had just come out and walked maybe 50 feet down the street before taking the pictures.. it was nice.. we were on the hunt for food..
what we found was a taxi driver willing to take us to a resturant and to some shops .. and stay with us all evening.. that was a nice gesture.. he was a nice man.. he took us to a small cafe where we had kabob.. i had lamb jessica had beef.. it was really good.. we went on to a papyrus place.. oil factory .. a small shop that sold many different things.. to a jeweler to get cartouches .. and there is where we had our camel ride .. it was interesting to say the least.. please meet Michael.. the camel.. Jessica nick named him Michael Pizalut ( sounds like pees alot) because well .. that is what he did .. poor thing was slightly behind me on the horse.. and she said Michael relieved himself at least three times during the ride.. which lasted almost an hour..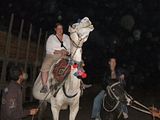 we finished our camel ride and headed back to the hotel.. we stopped for water.. and then.. i shoudl have known it was too good to be true the taxi driver gouged me for twice what he asked before.. i should have just said no.. but on hindsight.. it wasnt a bad price even at twice and we had an adventure to say the least..
so we had that 2.30 wake up so we could make our way to the airport to get us to luxor to catch the boat.. we decided at this point to take daily self portraits.. this was taken as we were on the plane and about to take off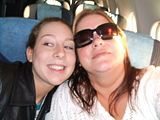 i think we look a little rock starish .. lol.. i will leave you with our arrival at luxor ... the airport was interesting to say the least..