I suppose any one who has been in Crochetville lately knows how busy I have been .. 6 felted bags in the past few days (that doesnt count the other 4 that still need to be thrown in the washer) ... and before you get all upset that I havent posted pictures yet and I have over there.. I just did it like 5 minutes ago.. so no one is cheated LOL....
So here are my bags before ..and as always dont be afraid to click the pic.. I am totally in love with that clickable thumbnail thing at Photobucket
And of course here is the magick after..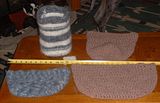 I havent finished them up because I am not sure exactly what I want to do with them.. I know the striped bag is MINE.... I got the wool for a RAOK/Birthday gift.. its a great wool and has many colours in it.. I do know I have some great jade and purple (i think its lodalite) stone beads to make some sort of tassel to hang from the drawstring/ slingstring.. just havent figured out the string part yet.. the two camel coloured ones are getting some sort of leather treatment.. and I think the blue one will too maybe some bamboo or beaded handles.. that one really hasnt spoken to me yet..
So I have been the bag lady.. also I have been busy working on my hat swap partner's hat(she knows who she is.. so I cant show pics..as soon as she gets it I will show you all .. Pam I am so excited for you to get this !).. and some hats for our boys over seas to be donated... Julie is the co-ordinator of our swap.. she has vowed to match any hats that we make extra.. man does she have her work cut out!!.. I know I have 6 in the works and I know Sutty has 6 as well .. and that is just two of us.. Maybe I should tell her I will help.. if of course she ever says she needs it I will be there .. cause I am just so cool like that.. any thing for our boys!
I didnt get to go to market this week because of the wind and rain.. but I have been totally inspired to get stuff done.. and I am hoping the weather holds for me thursday .. its been a disappointing month so far with weather and sales.. I have had to chase down a chick who wrote me a bad check.. that sucked.. she finally paid when I called and told her if she didnt get in touch with me I was going to the sheriff by noon the next day.. and dont you know.. she called me back in 15 minutes.. with a lame excuse.. but she was at the post office and I got my money the next day ... what a hassle.. you want to trust people then something of this sort happens.. UGHHHHH...
Oh well.. I am looking forward to this week .. I have new things to take.. I have a new tent.. and Saturday is my birthday.. so here is to me making a bunch of money thursday so I can go celebrate my birthday right on Saturday !!