SO after yesterday's maddness in the wind.. just call me Dorothy.. I came home and relaxed for the evening.. I didnt even want to work on anything I really needed to work on so I spent my evening making Brutus a little sweater..
Here is the result ....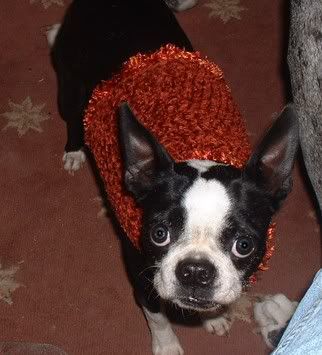 Isnt he the cutest little thing you have ever seen .. You should have seen his little disgruntled face when I first put it on him... too funny.. now at the moment he is all curled up in front of the fire glad to have a sweater.. the cats are giving him envious looks.. maybe I should make one for Tiger
but something tells me that he wouldnt really appreciate it and all the other cats would just make fun of him.. you know how kids can be .. LOL
For some strange and really fucked up reason.. I decided it wouldnt be so bad to venture into town and pick up a few groceries today.. tell me.. what was I thinking?.. and I also thought I should get a few stocking stuffers at WalMart.. I drove up to WalMart and looked in the parking lot and kept on driving.. I dont think there was an empty space in the whole place.. Harris Teeter wasnt quite as bad.. but of course there were the ladies in the aisles you needed to be in blocking the path because they wanted to catch up on the whole past year they had not seen each other and by chance they met in the grocery store today.. ATTENTION SHOPPERS.. USE THE DAMNED PHONE AND GET THE HELL OUT OF MY WAY !! and of course they see you need to get by and dont make the first move to let you .. so after a couple times just butting carts to get through.. I think I got my message to these people.. because at that point .. I was getting real close to panic atttack and needed out of the throng of people.. so I got my baking supplies .. dog treats.. cat treats .. and extras so I dont have to go out of the house for a week.. and I headed home.. getting out of the parking lot was almost as fun as the grocery store itself..times like this I wish I had a huge 4X4 Suburban that looked really ratty so people would be scared of me instead of my cute little non intimidating Mini that people think they can just push down the road..I did however score a cherry parking place at the one store I stopped at for pastry.. because I have a tiny car for tiny spaces.. and I couldnt do that in the aformentioned Suburban...