After a terribly disappointing day at market I can say this.. I am tired.. I am cold.. I am wet.. or was when I got here anyway .. Dried out a bit now.. and after my hot shower feel a slight bit better.. It sucks being out in the grey and rain all day especially when it doesnt get above 50.... trust me.. and if you want to know what its like... let me know .. I will call you on the next miserable market day to come keep me company ..
On a Happier note.. My niece turned 17 yesterday.. and she made her dear old auntie feel good by telling me she missed me a bunch and wished that I could be at her party on Sunday.. I wish I could be there too!! I will be next year .. that is a promise .. If I have to beg borrow or steal to get there I will be.. I would never miss her 18th birthday for the world!!
I have been loving the post man this week .. boxes and boxes have been arriving here .. I have loved every one ! I still need to take a few pics of my swap things from my pals over at Crochetville.. so I will save that for another day .. except .. I just have to show this beautiful yarn I received from Deneen .. it was 9 WHOLE skeins of this beautiful vintage pink wool with silver threads in it ..
I cant wait to use it.. Not too sure what I am going to make with it .. I did do a swatch and I fulled that last night.. it turned out nice.. so I will think on it and let it tell me what it wants to be.. I am thinking a nice fulled cloche hat and matching bag....
I have been a busy bee this week.. I have been working on scarves because last week that was the request.. scarves .. scarves.. and more scarves... so here is what I had for sale today and of course didnt sell a single one!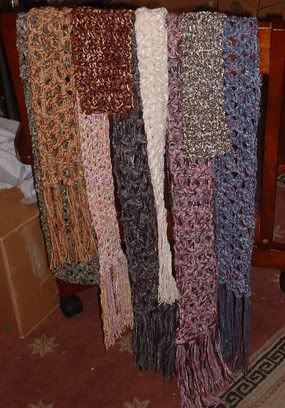 I worked very hard on this wrap as well .. its made out of a nice glamorous chenille that is off white with flecks of gold.. very nice.. I loved the way it turned out.. even though it was supposed to be a triagle to begin with and turned out to be a rectangle when I finished.. I dont mind .. I think the result is striking..
Lastly I leave you with my cute little face.. in a poncho and hat set I made for myself.. I am not sure If I will keep it.. but I think its nice for the time being.. I am sure if someone wanted it bad enough I would give it up... that is just the way I am ...