I guess its time to answer all those burning questions you have ...
First there is Julie....
I started crocheting a long time ago... my sisters will attest my mom made us make lots of christmas bells.. and I didnt want to crochet for a long time after that !.. LOL .. but I have always been crafty and creative and also try to be frugal .. so I like making nice things for people .. and I guess that is where it all really comes from.. seeing the look on peoples faces when they get something really nice that you took the time to make just for them....
A favourite day for me ... most of my days lately have been my favourite kind.. get up .. go to my yoga/tai chi class... come home have some tea and breakfast.. crochet most of the day .. walk the dogs.. just very relaxed.. that is what I like relaxed days...
The last one is a toughy they each have their attributes.. Jude Law or Brad Pitt.....oh the agony of deciding...do I really have to decide? ... ok ok ok .. it would have to be Brad.. there is just something about him that I have always been attracted to ...
On to Andrea...
I have already seen Ever After .. loved it... as for the books if I can find them at the library .. sure I will check them out.. and I am sure I will have to hunt down the music .. but its worth a shot.. I like different
I used to drink them more often than I do now.. I like vodka martinis.. slightly dirty with of course three olives.. or for after dinner a raspberry chocolate martini... I would say right now I probably have one a week ... I actually know how to make about 200 different kinds....
My favourite yarn.. hmm that is almost as tough as picking between Jude and Brad.. I will say this.. anything that is soft and feels nice when you work with it .. and doesnt try my patience as I work with it..
Ok Marvie...
my least favourite thing to do .. besides shopping would be...being forced to get up very early to do something I really dont want to do....
My favourite thing besides crochet is walking my dogs.. its nice.. you get fresh air.. see new things daily and meet nice people...
Goals for next year... lose 30 more pounds.. like I did last year... expand my business.. maybe learn to spin... and try some new techiques in crochet... maybe try to relearn knitting....
I think the next person is Kitten.. judging from the Slipknot comment....and if not here are my answers anyway ....
Brutus is 6.. I bought him and Cupcake from the same little pet shop in tennessee... at the same time.. they were born a week apart so they have been raised as brothers really ...
I have been married and been close a few times too LOL .......
The crochet project I am most proud of at the moment would be the doily I did for my mom for Christmas.. even though she hasnt gotten it yet..
Burfica.....
Eeyore.. you know I LOVE him.. he is just soo.. well you know Eeyore
Wow another pick your favourite.. I love most animals but If I had to choose.. Giraffe.. they are so beautiful and awesome to me ..
for Christmas.. I received.. some tea... a nice picture of some good friends.. a silver handbag.. an ornament....3 pair of black knee high boots.. and 10 hand turned corchet hooks from turn of the century ...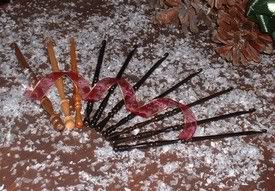 I received money from my mom and will get money from my dad when I go home...
and Melissa.....
My favourite white wine is Kendall Jackson Chardonnay Vinters Reserve and my favourite red is Columbia Crest Merlot Estate Reserve
Well .. I love both coffee and tea.. but drink more tea these days...
In my purse.. there is ... an ATM card.. a tube of Burts Bees Lipbalm.. a few receipts.. a little money and if I an out and about my cell phone..