Happy Cinco De Mayo !!
here is a recipe for the BEST Margarita ever !
1 part tequila
1 part lime juice
1 part sweet and sour
1 part grand marnier
rim glass with salt.. shake together .. pour over ice..
Ole!
ok so i kinda copped out for foodie friday.. but that IS a good recipe
I have been busy .. busy .. busy ..
and here is part of what i have been doing.. i designed a bag..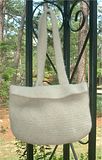 those are the before felting and after felting pictures.. still working to get it in pdf form and it should be up for sale after the weekend !!
many thanks to Deneen .. Kari .. and Lani for being my guinea pigs !

I am also working on another not so super secret project.. many of you know what it is .. but I havent gotten my wool to do my prototype and i am still in the finishing stages of writing her up .. as soon as i can get it all together and tested it will be unleashed.. and man she is a beauty if i do have to say so myself.. think .. magickal ..
i have also been busy getting some yarn dyed.. some stuff shipped out and some little RAOK's put together .. not to mention i have about 40 days left til i get to go home..
oh .. and on a side note.. I know WHY we celebrate cinco de mayo .. do you ?
if you dont .. look it up and learn something today .!!