I guess I am a little late on the stash flash myself .. but here goes... this is most of my visible stash ..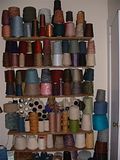 Since that picture.. I have added this
Plus.. I will not mention the full 4 drawer chest and the 6 of the 9 drawers in my dresser full..
It's a sickness.. I just know it.. I guess there are worse things.. more later!