I have to say with running the silent auction over at
Crochetville
, my address has been receiving some really nice stuff..

Soo.. You all can Imagine my surprise when I actually received some things for just ME!!

The lovely and talented Fran .. From Crochetville whipped up this really cool hook holder.. It has a corduroy outside with a really great and sparkly iron on (notice the three olives .. And yes the pic is blurred.. I wanted to show the sparkle) . And on the inside a place for my hooks.. With OLIVE fabric and a leather scissor leash.. Also there is leather thong around the outside to tie it closed.. Very very cool RAOK from Fran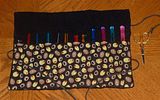 Then of course there is this... I have a secret admirer.. That sometimes listens when I say stuff.. I have to be careful because after I say the things I do .. Some of the things I wish for end up on my door step.. Like .. ohhh.. 38 skeins of Noro..

This picture is the 20 skeins of Noro Kureyon on top of the Fall Interweave that shows the satchel I will be making out of it.. Because flowers arent my bag baby .. I am holding it double and the striping is coming out more subtle.. Which is nice.. I am actually 24 inches into the bottom already ! I will be getting some solid coloured wool to do the handles.. Any suggestions on colour will be considered.. Of course.. I am leaning toward lime green..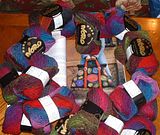 This pile is 18 skeins of Blossom.. In a nice coordinating colour way .. To go with the Kureyon.. It will become a jacket .. I am still uncertain whether I will wear the jacket and carry the bag at the same time.. Cause I really dont want to look like a Noro Explosion.. But .. I just might..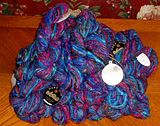 Then last but definitely not least.. I received a box from my Secret Sistah .. Inside was a ball of Pom yarn very .. Soft.. Some olive oil lotion in lemongrass and sage smell.. yummm....A secret sister framed little angle type thing.. Very sweet.. A cross stitched flower wall hanging..Some Adagio Mandarin Green Tea and a trivet made from wine corks.. (we wont mention the huge Belgian chocolate bar with chopped hazelnuts that didnt make it in the picture..Its in the fridge firming back up ~I swear I didnt eat the WHOLE thing already~)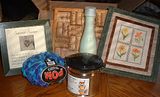 THANKS SISTAH!!