First of all .. I have to give a huge shout out to my girl Mary Jo .. aka Tampa Doll over at Crochetville.. not only did she take the time to send me a very niecpackage.. she sent things that were right up my alley .. ..
I recieved a box the other day .. and I apologize for not saying thank you sooner.. my DSL took a shit friday and I didnt get it back until late sunday afternoon.. and of course with the girls leaving etc.. I have just been swamped.. but I digress..
In this box.. I open it to find the cutest .. sweetest.. olives I have ever seen .. with cute little googly eyes (thank goodness they werent Lady Linoleum type eyes .. i think I might have fainted.. even thought I still would have appreciated it.. they would have to live some where I couldnt see them after dark ..)
At any rate they are cute.. AND as you can see in the picture.. I got a whole heap of very NICE cigars ..
THANKS AGAIN MARY JO .. YOU ROCK SO HARD !!!
Then .. many of you have asked for the bigger version of my picture over there .. so here it is in clickable form .. and dont be printing it and putting it in the garden .. I mean it !!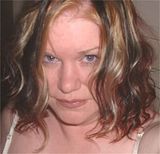 *Edited* My hair is normally stick straight.. my sister took some time to curl all my little hairs and make me all pretty for the night ..I wish I could make it look like this permanently .. but its not possible..