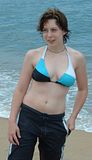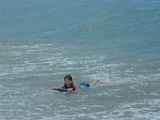 Tell me those girls dont look like they are having a good time.. ESPECIALLY the one in the water.. her face says it all.. and her screams of joy riding a big wave all the way to shore.. made every penny spent and every hassle to get there worth it.. I so mean that.. I didnt realize something as simple as an 8 dollar boogie board could bring so much joy to a kid..
We had a blast.. and definately didnt want to leave... more later.. I am seriously exhausted .. and I have three more days !!
Oh yeah .. Llarry wanted to say he enjoyed the view.. but didnt go near the water for fear of felting !