Wow.. Monday already.. where is my time going.. I swear to you I could host the yarn channel at the rate I am going .. all yarn all the time 24/7.. I have been dreaming in yarn.. its a sickeness madness .. I cant seem to find enough hours..
I have my nieces coming home with me .. I leave friday.. not panicked yet.. but if I dont get some of the 1465431486541 things I need to do done.. Thursday night will be all she wrote for me.. I may have amelt down..
Never fear.. I am taking yarn on the road.. So I dont have a gap in selling.. nothing like a working vacay .. but you know.. Its nice I can take it and make some of the money I will be spending while I am gone.. That would be nice.. Make the money I spend .. then I wouldnt be "in the hole" when I get back.. which I really wouldnt be anyway .. but you know what I am talking about.. I wouldnt have to play catch up ..
The city wide yardsale will be on for saturday when I get there.. that will be nice.. to see every one in town .. in one fell swoop.. and let all the old biddies gossip about me early on in my visit LOL..
I have actually finished something else ..
Behold!..The Amazing Technicolour Dream Shawl....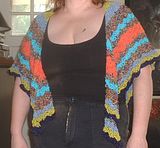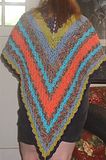 SO .. this is what it took ..
One
Turn of the Century
K Hook in Tulip Wood
300 yds..

silk rayon blend

.. I have for sale in my ebay store..
150 yds each ... lime, purple, periwinkle chenille
140 yds coral Cashcotton from Debbie Bliss
125 yds Aqua Tahki Egyptian cotton
and
Holly's Butterfly Wing Shawl Pattern
OK .. I think that is all I have to say for now.. who knows I am hyped up on a quadruple cappucino.. (yeah yeah yeah I know I am not supposed to ) ..
oh.. yeah listed new blends in my store.. go check them out!