Yes..its true.. I have been in fringe hell tonight... two ponchos and a shawl and a half.. that is a lot of damned fringing ...
First I did Leigh's.. its been needing done so I finally did it .. off it goes in the mail tomorrow
Then the black mohair....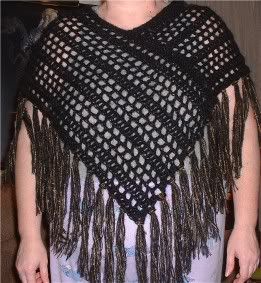 Then I made a whole new shawl tonight .. I wish I had gotten a better close up picture so you could see all the colours.. I will have to do that tomorrow .. I am just proud I figured out that timer LOL...
The colours in that one are really nice .. its a pear green chenille and then two varigated rayon threads held with it with the same green , purple, orange and yellow.. just a nice blend and it looks cracking together..
I sit here sad and deflated.. my Cardinals totally sucked tonight.. bad plays bad judgement.. just a bad game all around.. the first two were so exciting and this one was such a let down.. and they were at HOME .. that is what makes it more disappointing.. they will have to sweep the next 4 games to win.. not fucking likely.. oh well .. the Sox have been waiting a long time for this so if they win.. it will be because they wanted it more .. and of course played better.. even though they did set a record for errors the first two games..
Last but certainly not least.. I finally got Lily to sit still for the camera ....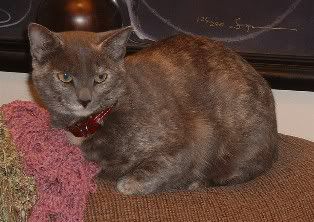 And here is an update on Winston .. the last picture I posted she was a little baby .. now she is almost full grown...