Yup.. that is what this has been .. just crazy.. so with out further ado.. for those of you that have been ssssooooooooo patient in waiting for pictures .. I will reward you with 6 today .. yes you heard right.. 6!!
Since I got my yarn ball winder this is my new obsession.. going in my stash pulling yarns and winding them together .. this picture is about a third of what I wound in the past week .. I figured I might want to start making some stuff since christmas is coming soon and of course I sold about 10 items at market thursday and there is that thing of most people would not like a couple balls of yarn in their christmas package as a gift...
Looks like the starts of a yarn store yes?
This is a shawl I made for a friend .. I really loved the tassels instead of fringe effect on this .. If you could see the yarn close up .. you would be able to see two in there.. one is a denim silk from Berroco and the other is a variegate chenille.. the denim silk has flecks of an orangy yellow on a burnt orange.. its very nice.. fringe would have detracted from the beauty of the yarn hence the tassels ... nice effect..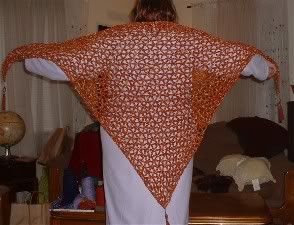 I know alot of you have been waiting to see the hot pink mohair number I have made for a niece.. since she isnt old enough to be surfing around the computer to look at what her clever Auntie might have made for her .. I will post the picture.. please note this picture does not bring out the total beauty of this poncho .. as 1. I dont have a manequin and 2. you would just have to really see it to get the whole thing.. and i havent figured out if I really want to fringe it yet or not but here it is anyway ..
This next item is something that happened because I was trying to do one thing but it just decided it wanted to be something else.. its a little wrap with a cool button.. the yarn is a thick and quick chenille with a black base and hot pink and red flecks in it .. the edging is done in black and hot pink mohair held together with a cool button and the button came from my button stash...as I look at this picture it reinforces the notion that I definately need a manequin...and do not need to take pics of stuff i do in my bath robe with no bra.. but out of laziness.. that is what you get today .. cause I am not gonna redo it.. if it scares you I apoligize in advance LOL...
This next poncho.. I saw a picture.. said "I can do that" and I did.. I made this out of some cone yarn i received as a gift .. so if I really hated it I really wasnt out much .. I do love the yarn but the cone was like 10 poounds .. so Its usually my test yarn .. I think I will do another of these in a colour next time .. it turned out nice.. a very fitted poncho.. looks better on the chair than me .. so that is what you get.. my lovely chair assistant modeling the poncho...
Last but certainly not least.. my obsession with the little star is confirmed as I have finished yet another and of course I am working on one more as a christmas gift.. there are other things I am working on but cannot disclose because of the top secret nature of their very being .. so here is the little star .. wendy peter pan velvet touch yarn.. oh so yummy soft .. if i had a baby all its stuff would be made out of this ..
SO.. I hope I have not disappointed you guys today.. there will be more to come and hopefully I wont fall behind on pictures again like this .. you know sometimes life just happens to get in the way of the blog!