I suppose the first order of business should be this :
Music Meme
Deneen
tagged me with this on wednesday last week saying I didnt blog enough.. and I suppose I dont since its been a week between blogs.. or maybe I just like super long ones ...
1. Total number of music files on your computer
*that would be zero.. I have a CD player and a radio for music .. I dont need them on my computer..*
2. The last CD you bought
* Linkin Park - Metora *
3. The last song you listened to before reading this message
*cant put a fnger on the song.. but I listen to the big band station here alot .. so that was the last music I heard before coming here *
4. Name 5 songs you listen to often or that mean a lot to you.
*NickelBack- Someday
*Linkin Park- Numb
*Elton John- Blue Eyes
*Madonna- Say Goodbye
*Blue Oyster Cult- The Reaper
5. Who will you pass this stick to (3 people) and why?
I am not sticking "it" to any one... I feel if my friends want to do this they will .. I dont have to tag them to make them ...
So on to the news front..things have been hectic and busy and crazy around here to say the least.. I have been on the quest for the perfect tire replacement.. and of course there isnt one that really exists.. I have however found something that is suitable ... will last more than 20K miles..the reviews were pretty good.. (of course nothing is perfect and there will be a bad review thrown into every mix) and will cost only half of the originals would.. so that makes it a little better.. my phone rang this afternoon though.. informing me of a back order on said tires .. so I am still waiting.. my tires arent so bad that I cant drive them around town so I am not freaked out yet.. now .. if they take more than another week to get here.. I think I will start to get a little nervous..
In my mail box today .. I found my reward for my Adagio link.. I didnt take a picture because it is definately not as impressive as what other people recieved.. I supposed if I actually blogged more .. more people would visit and in turn I would have recieved something other than a small tin of English Breakfast tea .. but a reward is a reward.. I am not complaining .. its one of my favourite teas and they were nice enough to send it!! I would have linked them with out the reward .. so its just bonus!.... there were other things in my mail box.. today and on saturday.. but I am going to keep you all hanging .. til I can get some pictures.. I wouldnt want to tell every thing in one post .. you might not come back!
I have to say this.. I have never been smitten enough with one pattern to make two of the same thing back to back.. I have loved a pattern enough to make one and then another down the line.. but NEVER back to back.. until ....Holly posted her
Butterfly Wing Shawl
over at Crochetville... this pattern works super fast and is so beautiful .. the shape is fabu.. its like the shawl hugs you when you are finished with it...
I have made two of these this week.. the first one will be finding its's way to
Burfica
and
Alekx

's
mom... she has had a tough time the past few weeks and has made the trip from Arizona to Texas to stay with Alekx for a while.. I was asked by Burfica how much I would charge for a shawl.. I asked who it was for.. she told me her mom.. and I knew what I had to do .. I made this shawl and have packed it with a few other small treats and sent it out .. I did this because as she and Alekx were going through all this.. I felt helpless.. I am across the country ...not in a place that I could have helped if I wanted to .. I have known these two since the first days of my computer ownership(over 7 years) .. and consider them as close as sisters.. this was my way of helping.. I talked to Burfica a little more and asked a few questions.. I had wanted to try this shawl out .. this was the perfect opportunity.. this is Lion Homespun.. I dont know the colour..I traded for it and it didnt have the band.. and its trimmed in some furry yarn I also traded ..of course Lily has to inspect my work before I could pack it up...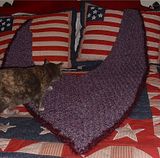 The second of these .. came about .. when I was shopping for yarn at
Melanie
's.. she is ALWAYS so good to me and generous.. I thought I would make something out of the yarns she sold me .. and give it to her as a way of saying "Thank You" for her kindness.. she neither knits nor crochets ... this is what I came up with for her...since the first one came out so nice.. this is done with a variegate that has peach..pink..white.. and lavendar in it .. a solid peach and a solid pink.. the variegate and the pink are thick/thins.. and the peach is just soft and kind of textural..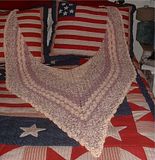 I really love both of these.. and I think the recipients will be more than happy with them ..
I have also started a blanket, been making plans in my head about my bed jacket.. (I might get to that by fall!) .. working on my shawl swap partner's shawl.. designing a couple things I am thinking of submitting ....I recieved my Entrelac Crochet book in the mail.. I have been practicing that.. I cant say enough about this technique.. its easier than it looks.. and very interesting.. I am trying to figure a way to make this in the round for a bag.. but I think for now I will have to just make rectangles and be happy with that.. I dont care .. I *heart* this !! I cant wait to finish my project and get it all fulled so I can show off ! I have been spinning a little.. I should do more of this but I have so many irons in the fire at the moment.. I feel I cant really.. because I really need to be working on projects.. besides that I have my eye on some wool that if in fact I get it.. I will be a dyeing biatch for the next week or so .. and then I can make more Entrelac bags.. woohooo!!....the last roving I had my eye one wound up in some one else's stash because I waited just a little too long to bid and I suppose she was trying to teach me a lesson.. oh well c'est la vie.. all I can say is if she did it to be hateful or vendictive.. I truly believe in Karma.. and It will all come back to her..
My animals have seriously been driving me crazy for the past two days.. its been raining off and on here.. when that happens of course I cant just throw the dogs out to stay .. and the cats dont want to be out in it .. so I have had all 5 animals piled in the house.. its a rare occurance really .. it just makes this place seem even smaller when they are all underfoot.. tomorrow will be nice .. it will be a nice break to be able to make them all go out .. well except Winston.. she hasnt been spayd yet and wont be going out til that happens.. I dont want any more surprises concerning animals !
This time of year really makes me miss being at home... this is the time of year I start to plan what I am going to do new in my yard... how I will rearrange my flower beds.. I start to see my bulbs popping up.... I start my seeds for the garden or any flowers I want a jump start ...I love digging in the dirt and reaping the reward of flowers ... fruits .. and vegetables.. I seriously miss that.. its therapy to me.. here .. I have two small.. I mean small 2 foot by 3 foot beds.. last year I had a mix of coleus .. herbs ..peppers ... and flowers in them..not sure what I am going to put in them this year.. doesnt even seem worth it to plan it.. just fly by the seat of my pants.. go to the nursey in a few weeks and just pick out what jumps out at me to place there..
I think I am all talked out..
HAPPY VALENTINE'S EVERY ONE !!