Every one.. thanks for your well wishes and concerns.. I have found new tires that will cost me half of what the old ones did and also will last over three times as long... so as soon as the tire shop gets them in .. I will go and get them put on.. til then.. I am stuck here.. but hey.. I have new yarn so I have plenty to keep me busy .. My family all understood.. so that is good ..I am still disappointed about not going BUT would have rather stayed here than risk hurting myself or some one else because of a tire issue.. and hell maybe next planned trip I will get more than 4 days to go.. so it will probably all work out in the end..
Have I mentioned I have been loving the hell out of my mail man lately.. not only did I receive the
Urban Flair
leaflet today from
Deneen
today.. saturday brought me goodies as well ..
Tiff
over at
Crochetville
had found some really cute boxes.. I messaged her and asked if she would send me a couple.. and that she did.. along with a little surprise .. some Reynolds Lopi
also I had won a gift certificate from
Elann
.. I wasted no time picking out this..its Quechua.. alpaca and tencel from the PeruvianCollection

..in dusky lavender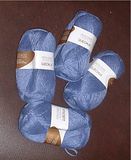 I will be making
this bed jacket
with it.. I will have to say that was the quickest I have ever seen an order filled and shipped..it was packaged very well .. I give Elann 5 stars for service and they have some great prices and take pay pal!
I have started my shawl for the swap at Crochetville.. of course I could tell you more but I wont because I know my swap partner reads my blog.. LOL.. sorry
Rebecca
! Just know .. I think its fab and if it wasnt pink I would consider keeping it myself ! .. I also started
Holly's Butterfly Wing Shawl
.. with some new yarns I picked up saturday .. you can bet you will see pics of it when its finished.. its going to be nice .. I just know it !