Well.. I have had a fun filled day.. ok.. not really but its been interesting..
I heard my dogs going crazy this afternoon and went to the door.. this is what I found when I opened it.. well ok .. its after I opened the box..
That's right.. MY HANDLES .. from eBay .. I cant say enough good things about

this

seller.. I placed my order LATE saturday night.. I received a consolidated invoice early sunday morning.. dashed a paypal payment to them.. my package went out monday and got here today .. what service.. service is a big thing to me.. I couldnt believe they were here this fast! and I am more than pleased with the things I bought.. they are even better in person ...
AND over the weekend I received this mysterious gift.. no note.. no card .. nothing but a box on the doorstep saturday .. I almost didnt open them because I thought surely it couldnt be for me.. but I did and they were !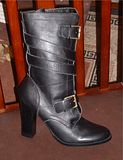 So today I have been busy winding hanks of yarn to go up on eBay (shameless advertising again .. my eBay ID is threeolivemartini .. big surprise.. ) and here is what I came up with so far.. and will probalby do more tomorrow..
Last but not least.. a picture that proves my cats really arent possessed..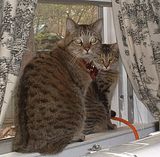 Have a great night guys !!