Today has been a busy but fun filled day.. I think anyway.. I got up this morning and walked to the bakery for a pastry and coffee.. shopped a little stopped into the thrift store for a scant minute cause I forgot they closed at noon for one.. and for two forgot to take cash.. so no yarn today .. DAMMIT!
I got home... washed the dogs.. made a new cover for their bed.. cleaned my kitchen.. bathroom and living room.. I mean really cleaned .. scrubbed the tub and bleached the coffee maker and every thing ..
And who would have thought when woke up this morning that this pile of stuff...
Would end up a cute little bracelet bag by this evening?
I have proof it happened!
I think it turned out very nice.. I even put the button on and made the drawstring.. I am just debating lining.. I think I might go thru my fabric and IF I have something suitable I will use it .. and if not.. it will stay unlined.. I absolutely love the way it turned out!
I realized today .. that red eye fix doesnt work on kitty pictures.. i tired to make them look less posessed but it just didnt happen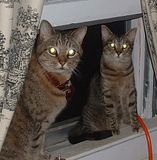 Since I was bound and determined to get that bag finished (we wont talk about the mess I made with the sparkly yarn that took 2 hours to unknot.. it wasnt kicking my ass!) I leave you with this parting shot of my nice smelling clean dogs on their new bed cover..and promise you more entertainment tomorrow!!