What a nice day I have had today .. sold some yarn.. packed it up.. took the 5 mile round trip walk to the post office in the misty rain.. One of my favourite types of days.. reminds me of Europe every time.. BEAUTIFUL..
Weighed in this morning.. 2 pounds lighter.. YAY me after a few months of stagnant .. finally.. that last 30.. I am gonna kick its ass.. actually there are only 26 more because last week was a 2 pound week too.. I feel good today .. empowered..and just well.. all around good.. I even put on some make up.. LOL.. and pulled my hair back ...
So tell me every one .. what is better than a dozen new Yankee candles?
A dozen Yankee candles ON SALE.. that's right .. ON SALE!!!!.. I stopped into one of my favourite shops on the way home from the post office.. Kandy and Kandles (hokey name but really nice candles .. wax warmers.. candy .. etc...) to find all the votive candles buy 9 get 3 free.. so I got a dozen candles for 12 dollars.. pretty good deal I have to say since the votives on the website are 1.60 each .. and if you have never tried a Yankee candle .. I think you should.. they burn nice.. are well scented.. In this small house I just need one votive burning to get scent through the whole house.. when I have a jar.. I can leave the lid off and the scent fills this house.. that is how nice they are... on top of the fact that I have not found another candle company that makes floral scented candles as close to the real thing as they do .. I am not a big floral person.. but when I want to be .. they have to smell like its real..
Next.. the mail came today and I recieved the cutest set of notecards from

Becca

.....the nutmeg knitter.. thanks Becca... you made my good day even better ..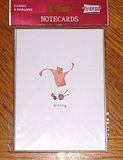 I have had a nice night of creativity and TV.. I dont usually spend much time in front of the TV but tonight I did.. it was a nice change.. I started a choker and will be using one of my raku hearts for the center.. I should get that finished by tomorrow so pictures then.. I am still plugging on the weaving of ends for my secret pal.. I am almost there .. this package .. I hope will blow her away .. and If it doesnt .. well then I suck LOL..
Also in the mail today .. I received this .....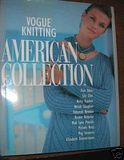 I won it on ebay a few days ago .. Its a really nice book with some really nice things in it.. I am not sure if I will ever be on the level of making.. but it sure is nice to look at it and hope.. LOL....
I guess that is it for tonight .. I need to go work on my choker and finish it up while I am on a roll and in the mood .. did I mention its thread? and Navy blue?