OK OK OK .. I am here..
Burfica
dont call the FBI.. I am ok I swear..
To answer a few questions.. First..
Mom
... I made this out of thread.. held with a metallic copper thread
Lady
.. you really want one? I think I might could arrange something ... *wink*
Kvinna
... .I made the heart.. its Raku.. I have several more and due to the process they are all one of a kind.. one of the very reasons I love Raku so much !
Dorko
.. the plan is to sell it.. so......... there you go.. and no I didnt think of an ankle version.. but may have to look into that.. most of my clients are older .. so I am not sure that would go over as well for them .. if I lived closer to the beach.. probably..
Arc
.. keep watching.. I have another in the works that makes this one look like amatuer work!..
Also .. any one interested in a special one made just for you .. email me...... there is a link in my profile..
NOW.. this is what I have been working on .....
Pineapple Blossoms
This is going to be my mom's birthday gift.. as she has no clue I write this blog.. then its pretty safe to show you all ..also .. this isnt a full block.. its just steamed but I was so excited to get it finished and to show it .. this is what you get.. as it sits.. its 22" I am thinking I will get another inch and a half once I have a full block going on it.. I used #3 red south maid thread..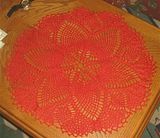 This of course would have been done had a few things not happened.. like.. umm finding two missed stitches in round 8 after I was already at round 20 ... AND.. running out of thread with a round and a half to go .. so.. yesterday .. sunday.. not a day to venture to Wal*Mart.. so I waited til tonight..
In other crochet news.. Like I said earlier .. keep an eye out .. I have an original choker coming.. something very nice and very eye catcihng from front and back .. also .. I need some opinions.. I thought about selling kits .. for my bracelet bags.. and wondered just how many people would be interested in something that contained the yarn.. pattern.. and handle.. so any input would be appreciated.. also .. I didnt change my featured yarn cause I have something kind of special cooking and I need a picture in which I am too lazy to get up and stage and take at the moment LOL.. imagine that.. but tomorrow.. tomorrow.. tomorow I will update it and post..
I also bought the Loop-D-Loop knit book.. I want to try to replicate the scarf on the front in crochet.. shouldnt be too hard but more work than if I did it on circs knitting..
Yarn Dyeing is on the agenda tomorrow.. I have lots to do .. I am going to dye large lots the same in case some one wants alot of one kind.. say .. 500 to 700 yards the same.. its about a sport weight 2-ply.. so I think that will work nicely for a light weight shawl or doubled be a very nice fulled bag.. I have some pattern writing on the agenda tomorrow too .. I have a very busy and business like day ahead of me tomorrow.. more yarns will go on ebay as well.. the way I see it.. the busier I am the more money I can make and the nicer my trip home in July will be.. I have only been trying to get there since January.. so .. I want to be able to stay as long as I can and have as nice a time as possible.... I also have a couple things up my sleeve for summer that will require money too .. damn the luck.. why cant things be free? I really hate money .. I hate dealing with it and the responsibility you have to have with it.. that is my true free spirit coming out there.. If I could barter for every thing .. I would be so happy .. but I realize things are not as such .. and unfortunately.. I was born with great taste... so I pay the price (pardon the pun).
ok.. this post has turned to a ramble.. its time to go .. more in the morning kids!!