I have lots today .. LOTS!! .. and I could do more but I am going to limit myself..
First.. I actually have something to show for what I have been up to lately... I finished this the other night.. lightly steam blocked it today .. It needs a full on blocking but .. that will have to wait.. so I dont wanna hear about my wonky edges LOL... I was trying to give you a link to the pattern and its saying the page cant be found.. so who knows !! At any rate I used
THIS
yarn .. its a sport weight and it turned out about 12 1/4 " across.. I kind of dig it.. Its a gift so .. I think its ok .. I am not a doily kind of girl..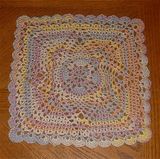 Next I have to give a shout out to

Rebecca (Woolandflax)

over at Crochetville... she was my secret pal this last round.. I was spoiled rotten .. I opened my reveal box and just kept pulling things out.. there were 3 pair bamboo handles, 2 big balls of the limiest green wool a girl could have , a ball of knit picks sock yarn , some Kool Aid for some dyeing action, a red beaded trim (about a yard) , 4 green apple candles.. and two really cute appliques .. THANKS REBECCA!!
As if the mail man wasnt good enough to me Friday .. I received a great package as an RAOK.. as well from Cheryl (Diamond) .. I opened it up .. and again just kept pulling things out .. There was a nice note apologizing for only two olives.. which is totally FINE! .. any thing martini is fine with me....inside there was .. a martini magnet for my fridge and a magnetic frame... martini sitckers.. a heart post it pad...lime flavoured green tea..some martini party invitations...some number beads.. and lastly some Burt's Bees Lip Shimmer in 2 colours I dont have !! what a score !! THANKS CHERYL!!
BUT WAIT!! There's more!!.. I ordered some earrings from FreeSilverJewelry.com....click the big picture over there in my side bar for more details.. they change their offer every 15 minutes.. charge you 5.99 S&H.. which of course it only costs them about 50 cents to send.. but hey .. really .. 6 dollars for silver jewelry .. not too bad.. so they got here too .. it seriously felt like Christmas around here..
So .. here is what I found when I opened my package.. they are garnet and citrine.. simple but nice and actually a little bigger than I expected..
Then.. yesterday.. two very thoughtful people sent me some little stuff..
The Shrone
sent me this really cute martini patch ..
and
Jess
... so sweet.. she thought of me while I wasnt at MS&W.. and sent me this cute little llama finger puppet and key chain..
He is going to be my adventure pal.. every trip I take or thing I do .. I am taking him and taking pictures.. I just have to name him.. he has not told me his name.. maybe you guys can help me do that ... give me some suggestions.. !!
So there you have it .. I feel so special this weekend.. seriously.. I have recieved way more than I deserve.. and totally needed the pick me up.. you ALL rock!!