So today .. I spent doing that catch up thing.. Taking pictures.. Getting yarn dried from dyeing yesterday .. Making more display hanks .. Etc.. I pampered myself with a really good dinner.. I usually dont take pictures of my food but this was so pretty I had to ..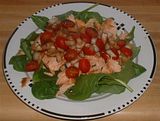 Its flaked grilled salmon on a bed of spinach topped with grape tomatoes and vidalia onion that had been marinated in a basalmic vinaigrette which I made from scratch.. Then I topped it with a small grating of fresh Parmesan cheese.. It was really good!!
Then there are these.. My hand painted stuff I did yesterday .. All nicely wound and twisted into little hanks..
The first is a wool mohair blend .. Its 725+ yards.. A sweater's worth .. I know this because it was unraveled from a sweater then given to me to "do something creative" with.. Well I think I did.. I am gonna sell it off.. Just havent figured a price yet...Any suggestions..
The second is already over there on my side bar.. its 350 yards of the loopy mohair and 140 yards of the straight stuff.. Hand painted.. And my feature yarn.. its so pretty .. I almost didnt put it over there... Then I realized if I started keeping every thing I dye that I think is pretty .. I wouldnt make any money .. And of course .. I wouldnt get to go home .. So that is the motivator.. And of course.. I can always get more..
I have other things to share.. But have been threatened.. I was told I must get my yarns listed.. Cause some people want to help with the travel fund and cant if I dont have listings.. soooo.. I am getting my ass to eBay .. And listing my yarn ....