and no not THAT kind of booty!... First.. I want to say .. I had not fogotten my blogversary drawing.. I couldnt give just one prize.. I had to do THREE.. cause you know.. three olives.. three prizes.. whatever.. ok.. I just wanted to give more LOL ..
any way .. I took the names .. cut the pieces put them in an envelope.. my lovely assistant pulled them .. sooooooooooo...
JOY
NATALIE
WENDY
If you wouldnt mind emailing your addresses too me.. well Natalie.. I have yours so you dont have to .. but Joy and Wendy .. please? and then .. you will recieve some booty in the mail !!
Now.. I finally finished the Pirate Jacket.. the pattern of course from Interweave Kints Crochet Edition ... I didnt use the yarn suggested.. I used Noro Blossom in colourway #10.. I also went up to a P hook.. ( I swear if I ever did anything by the book I might passout LOL).. I used Lion Suede in Ebony for the trim.. I was surprised.. I usually dont go for the less expensive yarns but this black was the black I needed.. not too black.. not too blue .. not too brown .. it was just right and once on the jacket really looks like a suede trim.. I also changed the length of the sleeves.. I made them so they would completely cover my hands.. I might end up making a button kind of thing (with Dichroic glass beads) similar to a cuff link .. so i can roll them them back like a french cuff... I am also going to add Dichroic glass beads to the end of the tie.. another change.. I made the tie 72".. cause .. I mean .. who are we kidding.. 36" is what they said would work .. on what ? a super model.. and I am AT LEAST two times one of those girls LOL.. so anyway ..
here is the Jacket.. so Heather can shut the hell up LOL .. and get off my back!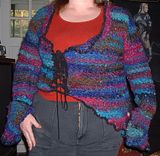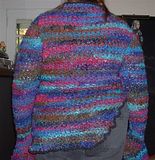 This was a really fun project even though it did inspire a profanity filled entry earlier last week.. I will do this one again .. really .. I hardly ever say I will do something twice.. but this I think is truly worthy of doing again .. and next time.. believe it or not .. I might try the WHOLE thing in suede.. it would be a very soft and cuddly jacket if i did .. I will have to think on it.. or I might have to do it in a lighter yarn to have one for spring.. at any rate I really enjoyed this project..