well i finally made it on thursday.. to richmond.. and lani was a doll enough to come get me all that way .. thanks girl! .. i got in about 1 in the afternoon.. late of course.. should have been there at 9.00.. better than what would have happened had i left out on wednesday

from the station.. we had some lunch .. then .. proceeded to home depot.. oh yeah my favourite place.. i have actually missed it since I have not been able to do any improvements much since i have been here.. cause of course this is a rental house.. i am chomping at the bit to get back home and start some projects of my own.. needless to say.. i had a great time helping lani paint her guest room.. we painted the walls cream and washed them with butter LOL.. that is what the colours looked like to me.. i am sure they have real names but oh well .. it was just enough so the paint wasnt "flat" on the wall.. i think lani was really pleased with the result.. i had a good time even though she thought she was contracting me for slave labor.. we had plans to do the bathroom.. and some how ran out of time.. i will say Lani has a bad back and she aggrevated ti a little by trying to do too much .. so that was part of why the bathroom didnt get done either.. no major biggie..

we made a trip to the thrift shop as well .. where i picked up some wool and other treasures.. for a mere 13 dollars ... we relaxed.. had pizza drank some wine.. a really good reisling.. not sure what it was .. reisling usually isnt my thing but this one was really good .. not too sweet with a ncee finish of tropical fruit. i still cant put my finger on it.. its between mango and apricot.. at any rate it was good..

then saturday rolled around.. we met up with the marvelous marvie and her son.. and headed out to the
Norfolk Botanical Garden
i have to say this before i go any further.. marvie was shorter than i expected but WAY cuter LOL.. even seeing the pictures .. you know some ppl are just cute in person.. and she is .. really .. and wtf.. she thinks shes fat.. whatever .. i was the largest of the thre..

Ok back to the garden .. it was REALLY nice.. lani's back was still giving her fits.. so .. well.. with some protest..i pushed her around in a wheel chair all day.. i really didnt mind..(umm since i guess here is the part where i confess i had not walked one step in training since i had been there ) i forgot my sunscreen of course .. and ended up with a nice burn around my neck.. i did wear long sleeves.. i know it sounds insane on a semi hot day but it was a thin t shirt and i was so glad i did ..

here are marvie, lani, marvie's son and llarry all ready to go in and have a great time .. as you can see by the look on B's face. he doesnt look all too thrilled about the whole Llarry thing.. LOL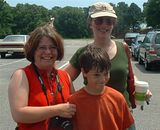 when we got there here is what greeted us outside the entrance to the vistor centre and gift shop.. (all pics are of course clickable)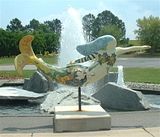 can yo spot Llarry ? (will show you tomorrow where he is ) yes i took him with and he had a fantastic time.. although i will say Marvie's son thought i was slightly insane at first.. he warmed to Llarry later.. yeah i am a big kid.. i was told that around Norfolk there were lots of these random mermaids .. painted my local artists.. i should add she was quite fabulous..

we spent a little time in the gift shop waiting for th enext tram ride around the garden .. the tram was painted to look like a lady bug and was quite fun to ride.. the gardens are a perfect place for weddings .. i think there were a total of 4 or maybe even 6 scheduled for that day.. i will tell you this.. we passed a bride getting her picture taken while we were on the tram .. her dress was so beautiful it gave us all goose bumps and made me cry.. it was perfect for her.. serious.. perfection.. i didnt get a picture but trust me .. very few things will make my eyes tear up ..

here are some highlights from the tram ride..

momma eagle and her eglets .. statue.. notice one of the eaglets is incomplete .. the artist didnt get to finish be their death.. still a really nice statue..





then there were the cute baby geese.. and lots of them ..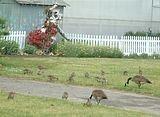 there were many other things i will get to those soon.. those were really the only pics i took on the tram.. after the tram we procured the wheel chair for lani.. and took a stroll thru the magnificent rose garden.. there were so many roses there.. i am SO getting some new ones next spring.. i HAVE to i dont have a choice .. here are some highlights .. i could have filled my card with nothing but rose pictures..marvie took way more than me so be on the look out for more ..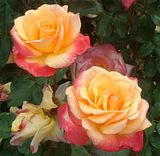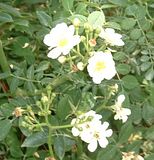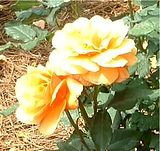 the one i am convinced i need .. is the next to last .. the one that looks like a bunch of roses all together.. that is because it IS a bunch of roses all together.. one stem on average has 8 to 10 blooms.. so ONE stem looks like you have a whole vase full.. this is called a floribunda and you can believe .. some of those are going in my garden next spring ! ..Lani you still have the list right ??

I can honestly say .. B did a great job having patience with us .. and the roses.. we probably spent a good hour in that section .. next was the eaglets!

there were three in the nest and we were told the day we were there the oldest had taken their first flight.. it was pretty amazing to learn their nests could be as big as a small volkswagen in size.. this nest we were told was about 5 to 6 feet across and 3 foot deep.. not too shabby .. here are the babies .. this made me want a better camera.. i think i am gonna get one like marvie's its a high speed version of the one i already have ...we sent B up in the tower armed with a quarter so he could get a better view.. thru the pay viewer.. us old ppl LOL were content with the free one.. plus i had to tell marvie the silver boot story..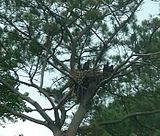 after the eaglets we had even more fun.. but .. i think this is where i will end for the day .. m ore tomorrw .. stay tuned !!