so i forgot to mention .. my hits went up over 30K this past week.. wow its amazing what drama will do to those that love to seek it.. they will come to your blog looking for more.. well .. i am done with it so if that is what you are coming here for you might as well keep moving nothing to see here any more .. i washed my hands of it the minute that last box left my house last week .. and i will no longer play a part in what is going on with it.. i will say this though.. i am sure i will be blamed for much of the ill will going around.. i know kari has been blamed for the whole board shutting incident and i think that is quite sad since neither of us have been there in over a month.. guess they need to find new scape goats..
also.. if you will notice right over there in the side bar.. my tally for my walk keeps climbing.. a HUGE thank you to every one that has contributed.. a shout out to those of you making socks for me( thanks Amy..Kimberly.. and Su!!) or have donated pink ribbon things to me (thanks Kari and David!) .. and to the nice shrug maker .. (thanks Marvie) man.. i am overwhelmed at the support you ALL have given me.. there is much more to be raised and much more for me to do though .. so if you can .. please find it in your heart to give a little this is a very serious thing.. ( all you have to do is click the little banner over there it will take you to pay pal.. or email me and i will give you an address to send a check or MO) ....and if you werent aware men are affected by this disease as well as women !.. i am up to thrity miles a week right now ... by the time the walk gets here the three weeks before i will be walking 75 a week and done one practice of 60 in three days.. if i dont lose weight from this.. i dont know what will do it LOL..
i got to hang with Angela again thursday .. the pics i posted before were from a coupel weeks ago.. so its not like i spent a day and then two days later did it again LOL.. but it looks like that.. we met up at Ruby Tuesday.. and i am reather ashamed to admit.. we had an appetizer smorgasboard for dinner LOL.. and then we had cake when we got to the knitters meeting .. gah .. it was sooo good though.. so i didnt get to see the baby Bernard or Clara cause Angelas hubster came home early and decided to take Clara so we could have a girls afternoon.. how sweet!! .. i know mommies need breaks every now and again ..
So .. we ate.. went to Hobby Lobby .. where you will be pleased to know i bought NOTHING .. and then to JoAnns .. and the rainbow boucle was on sale for 6 dollars .. so i bought 2 skeins .. one of the new blue/aqua colour way .. and one of the new red/orange colour way .. not sure what i am doing with them yet.. i have yet to finish my olive wrap.. and have a skein of the denim blue colour way as well .. i really didnt need any more but .. well who could pass it up .. a giant skein of yarn for 6 bucks LOL.. then we headed to ACMoore.. cause i needed some new 11's .. the ones i chose to start my wrap on.. look good in theory and i will use them again but the bamboo ones i picked up work much better with the boucle.. i had gotten some bryspun perfection points.. and the concept is nice but those points get caught up in the boucle.. frustrations.. so i switched over and have gotten more don eon the wrap in the last two night as i have struggling with it for a couple weeks now .. i digress.. we finished up at AC Moore and got to Books A Million.. and we had a large crowd turn out..
here is me and Anglea doing one of those .. i will hold the camera out in front of us and snap the pic ok ? .. shots .. hehe ...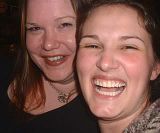 then oh did i mention it had been raining alllllll day.. well it had.. but while we were knitting.. the rain stopped and some one came in from outside and was like you need to go outside..
so we went.. and what was in the sky.. a rainbow.. but not just ANY rainbow.. it was a FULL arc.. complete.. usually you only get half.. but this was the full arch.. how many times in your life do you get to witness something like that.. i think i stood outside staring for 20 m inutes.. then the good sense in me took over and snapped a litle pic.. and of course this is only about a fourth of what was there but it was breathtaking..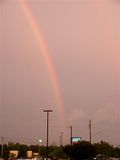 of course at the meeting i didnt get crap done ca use well i was running my mouth.. imagine that .. but its always fun.. and we had a great time !